Posted 2/8/2016
Menchie's emerged as the leader when other brands fell away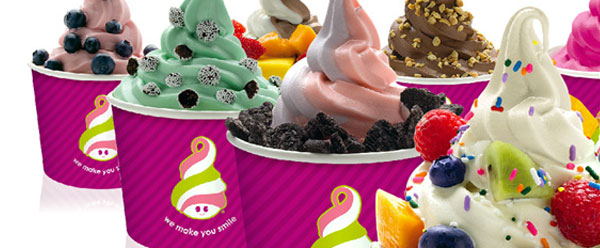 Menchie's started out with a single location in, and a dream of making people smile. Today, we're the largest self-serve frozen yogurt franchise company in the world, with more than 500 locations across the globe. And like the $8 billion frozen desserts industry, we continue to grow. Here are 5 reasons we've become the dominant player in froyo:
We're really in the people business. Menchie's appeals to everyone, but it's especially popular among families. Our interactive chalkboards and unlimited free samples, our refreshing plum-and-green store decor and our always-smiling shift and store leaders put people at ease, invite them to chill out and relax — and smiles are contagious. Menchie's becomes a community gathering place, which is great for the soul and for business..
We make sure everyone is happy – including the cows. We only use hormone-free milk from happy California cows. Does froyo made from the milk of unhappy cows taste different? At Menchie's, we passionately believe the sourcing matters. While some other froyo franchises rely on industrial dairies for, we source our milk from a family-owned dairy where the cows are not treated with artificial growth hormones, and they're treated humanely. You could see evidence of this on our Undercover Boss episode, when CEO Amit Kleinberger disguised himself as a dairy worker and saw first-hand how well the animals were treated. All of our frozen yogurt is certified kosher and is awarded the Live & Active Cultures seal by the National Yogurt Association.
We give guests the variety they desire. We cater to the guest experience. More and more consumers today want a customizable dining experience, and we offer that in two ways. First, our roster of over 110 frozen yogurt flavors and more than 70 toppings offer guest almost unlimited combinations to choose from. Secondly, we know there are many people with special dietary needs. We try to accommodate them all with a product line that includes gluten-free, vegan and high-fructose corn syrup-free options.
We surround ourselves with great people. You can't to 500 worldwide without the right people. Our team's focus on putting people first achieves best-in-class status and maintain momentum.
We've got marketing muscle. We use the power of our size and brand recognition to help franchisees be more successful. We promote grand openings, offer a guest loyalty programand pay attention to detail when it comes to keeping Menchie's top of mind. Our collectible spoons, for instance: Kids can collect their favorite characters from among Menchie's Sweet Friends and take the spoons home to use again and again, turning their utensil drawer into a reminder to go back to Menchie's.
To learn more
We invite you to explore our research pages to learn more about how Menchie's became the best-in-class leader in frozen desserts. If you're interested in joining the Menchie's family, you can fill out the form at right to download the free franchise report. And if you qualify, and we decide we're a good fit for one another, you will have a chance to talk to other franchisees to find out about their experience as part of the Menchie's brand.