Posted 5/27/2014
Menchie's frozen yogurt franchise ensures sustainability by attracting kids, families
It's hard to walk into a Menchie's frozen yogurt franchise without running into a few kids. And while Menchie's is an ambassador of frozen yogurt around the world is really intended for people of all ages, kids seem to be especially fond of us.
We're especially fond of them, too. We have been serving an exceptional, best-in-class frozen dessert since we opened our first Menchie's in 2007. The milk that is used to make our proprietary frozen yogurt collection is sourced from a single, family-owned California dairy, where the cows are never treated with artificial growth hormones (rBST). Our yogurt contains live active cultures and has received the Live and Active Culture (LAC) seal, indicating its endorsement by the National Yogurt Association. Frozen yogurt is a very reasonable treat that moms and dads can feel good about saying "yes" to.
Of course, those also are great reasons for grown-ups to love us. There are some tremendous reasons for franchisees to love us, too — if you want more on that, please explore some of our franchise website to learn such things as where Menchie's frozen yogurt franchises are growing, how much you can make and what kinds of people make the best franchisees. But if you want to know why kids really love us, here are three top reasons:
1. Menchie and his Sweet Friends. Menchie is our always-cheerful, always-smiling mascot. His hat is made of swirled frozen yogurt. His shirt is made of a waffle cone. His friends are a marshmallow bear named Mellow; Chip, a dog with sprinkles on his head; a peanut butter cup named P.B. who enjoys Red Velvet fro-yo; Barry, whose head is a strawberry; Kiwi, who is fond of Original Tart; Sprinkle, an upturned mound of colorful sprinkles; and Mookie the cow, whose favorite fro-yo is Cookies & Cream. These adorable characters adorn collectible plastic spoons that kids can collect and keep on every visit, as well as toys, watches, hoodies and loads of other fun merchandise. Children bond with these Sweet Friends early on, and they become part of the wonderful Menchie's experience. The Sweet Friends make visiting Menchie's so much more fun than going to some other frozen yogurt place.
2. Toppings, toppings, toppings. If there is one fantasy almost universally shared by children, it has to be fixing their own frozen dessert. They get to sample as many flavors as they want. They can swirl the yogurt by themselves, using as much vanilla and as little chocolate as they wish. And then they get to enjoy the toppings bar. Imagine, through the eyes of a 9-year-old, what it must feel like to be able to spoon on any kind of candy, cookie, fruit, cereal, sauce or sprinkle you crave. We have a menu of 70 rotating toppings that will please every tiny palate and go perfectly with our Private Label Collection of more than 100 frozen yogurt flavors. We constantly change out flavors, while keeping big favorites on hand, so every experience can be brand new — or exactly like it was last time.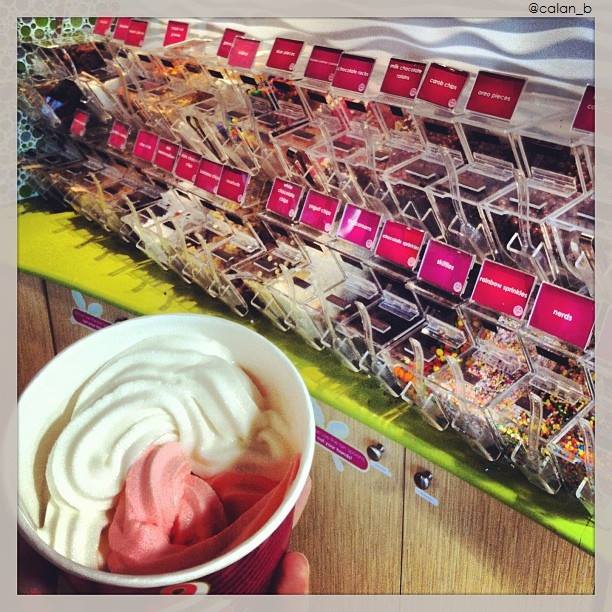 3. A place to play. Moms and dads may sometimes take their little ones to the coffee house, but not a lot of coffee houses are going to welcome them or encourage them to stick around. At Menchie's, kids know instinctively that this is their place. Every Menchie's has a big chalkboard and colored chalk where kids can write their names, draw a picture of their families or doodle to their heart's content. They're not going to be shushed by some guy with a laptop. After they've eaten their fill and played themselves out, they can take home some fun — and free — reminders, from collectible Menchies and his Sweet Friends spoons to stickers and temporary tattoos. It is a genuine pleasure for us to make children happy and smile; the Menchie's mission is to make every guest experience a happy one. We also understand that if you make the kids happy, you make Mom and Dad happy. And they'll keep coming back. It is a big part of the reason Menchie's is emerging as the leader in the crowded frozen yogurt franchise category, and why we are the fastest-growing brand there is. We understand our guests, and we will not rest until we make every person in the world smile!
If you have passion and drive, you could be a great fit for the Menchie's brand. To start a conversation about what it takes to be a Menchie's franchise owner, please fill out the form at right, or call us at 818-708-0316. We look forward to hearing from you!