Posted 4/18/2013
Menchie's Frozen Yogurt poised to hit 500 franchises in 2013
When a respected media outlet like Forbes magazine issues its business rankings, people both inside and outside those industries take notice. That's why we're particularly proud of the recent inclusion of Menchie's Frozen Yogurt in some of those rankings.
Danna Caldwell, who, along with her husband, Adam, founded Menchie's Frozen Yogurt in 2007, has been named to a list of 11 Women Who Started Amazing Companies by Forbes magazine.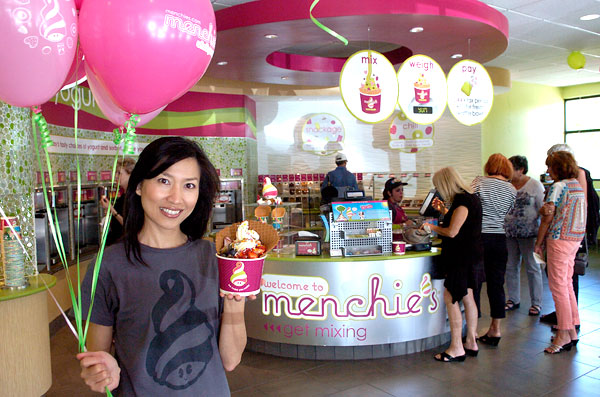 Danna's inclusion in the list is proof positive that families applaud Menchie's "We Make You Smile" philosophy and creativity and thrust Menchie's into the national spotlight as the largest self-serve frozen yogurt franchise in the world and a thought leader in the frozen dessert category. Since American Express Open estimated there were 8.3 million businesses owned by women in 2012, we think it's significant that Danna is on the short list of 11.
Because Menchie's serves a vast array of premium frozen yogurt flavors and toppings within a vibrant store atmosphere, we have become a favorite hangout for families and kids of all ages. And that was just what Danna and Adam were aiming for when they created the company.
"We have a really cool-looking store and it's fun to be at, and the kids and families love to come, so we really set ourselves apart that way," Danna says.
Our company is growing quickly. We have more than 250 franchises around the world, and we plan to hit 500 franchises by the end of 2013.
There has never been a better time to be a part of our dynamic company. In a field of formidable competition, Menchie's has attracted attention for making great strides in the frozen dessert franchise industry. Among our recent accolades:
Forbes magazine named Menchie's CEO Amit Kleinberger as one of America's Most Promising CEOs under 35
Entrepreneur Magazine included Menchie's in its Franchise 500, Fastest Growing and Top New categories in 2013 and 2012
Technomic ranked Menchie's at 272 in the Top 500 U.S. Restaurant Chain Report in 2012
Orlando Magazine ranked Menchie's #1 Best Frozen Yogurt in 2011
Los Angeles Business Journal named Menchie's Best Franchise in 2011
This clearly points to our superior operations, and we have the support systems in place to help our franchisees become successful. But it all boils down to our motto: We make you smile.
Our guest experience is second to none, and that's why Menchie's continues to rise in popularity with consumers. They love our signature pink-and-green shops with their interactive chalkboards and sample-all-you-want premium frozen yogurt. And they love the way they're smiling more on the way out of a Menchie's than they were when they came in.
It's a great time to join our team, and we have lots of territories available. For more information about starting your own Menchie's frozen yogurt franchise, the industry and company, visit www.menchiesfranchise.com. Read Menchie's franchise reviews from store owners on our blog. To start a conversation, fill out this form to request more information about owning your own franchise, or give us a call at 818-708-0316. We look forward to hearing from you!