argest self-serve frozen yogurt franchise's 200th store is in Adelaide, South Australia
Bring out the rainbow sprinkles, because we have some celebrating to do: Menchie's has opened our 200th store worldwide, an important smilestone for our rapidly growing franchise brand.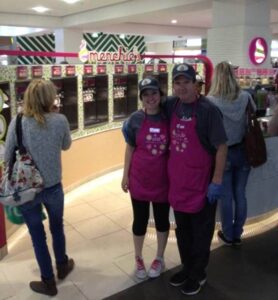 Just a few weeks ago, we opened our 200th store in the Westfield Marion Centre in Adelaide, South Australia and we just opened our 225th store. These stores join Menchie's stores open in 31 states and seven countries. Menchie's is now the largest self-serve frozen yogurt franchise in the world and continues to distance itself from other competitors.
Why is this important?
Regardless of the business, the lion share of revenue and profits go to the category leader. In the end there can only be one leader, and if growth is an indicator, it's Menchie's.
Opening our 200th store within four years of franchising is a testament to our 'we make you smile' philosophy, as well as the franchisees and team members who made this happen and propelled the emotional connection that Menchie's has with communities around the world. We pride ourselves in serving delicious frozen yogurt alongside smiles, and our franchisees and team members have shared smiles with millions of Menchie's fans across the globe.
What makes Menchie's so successful?
We help guests create memories in a family-friendly environment that is warm, welcoming, interactive and fun. We care about our guests' experiences, right down to the friendly music, comfortable indoor and outdoor seating and the toys we give to children.
Menchie's is poised to have 300 open locations by the end of 2012 and expects to celebrate 500 open stores in 2013. Menchie's opens an average of 10 stores per month, and currently has 250 stores in development.
Interested in opening your own Menchie's location? We'd be happy to add you to our team.  Download our executive summary to learn more.