The Biggest Self-Serve Frozen Yogurt Franchise
Menchie's is the largest self-serve frozen yogurt franchise in the world, an international company with hundreds of stores across the globe.
Menchie's is not in the business of frozen yogurt. We are in the business of making people smile. And that's what prospective franchisees understand right off the bat.
Are you someone with an entrepreneurial spirit and a passion for making guests smile? If so, you may be right for Menchie's. The question that remains: Is Menchie's right for you?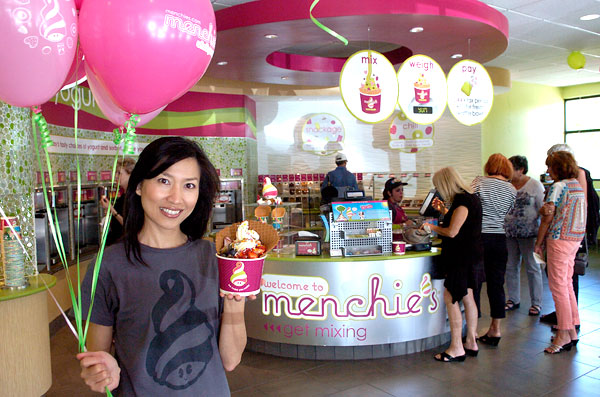 Menchie's Franchise Philosophy
Menchie's is a place where, when you go there, you don't want to leave. We've designed our stores to be inviting and fun, a great place for families and guests of all ages to hang out.
We want every guest to come away with a great frozen dessert and a great experience. We want everyone to leave Menchie's feeling better than they did when they first walked in. Every Menchie's owner learns about the importance of guest care and greeting everyone with a smile so they leave with a smile.
"When you take care of your guests and make them smile, they will take care of you and your business," – and that is at the core of Menchie's Unique Selling Proposition.
We serve our own private label yogurt, and we have varieties that appeal to every palate and diet, from tart and non-fat to low-carb, gluten-free and non-dairy. Speaking of dairy, we get all our milk products from a specially selected California dairy where cows are never treated with artificial growth hormones. We don't believe in making or serving anything to our guests that we wouldn't serve to our own families.
What Makes Menchie's the Best Yogurt Franchise?
What makes Menchie's stand out from the crowd is our devotion to the guest experience.
What do we mean when we say "guest experience?"
For instance, Honda sells motorcycles but Harley Davidson sells a lifestyle. Menchie's is like Harley Davidson.
Dunkin Donuts sells coffee. Starbucks serves community and conversation. Menchie's, like Starbucks, sells more than products.
Our competition sells frozen yogurt. While we do serve up a high-quality, great tasting frozen dessert, more importantly we serve up smiles. While guests' taste preferences may change over time, their desire to take their family out to a family-friendly environment, smile and laugh will never go out of style.
Our dedication to delivering a flawlessly fun guest experience has paid huge dividends for our franchisees. Here are some of the latest in a long list of awards and accolades Menchie's has earned:
Entrepreneur Magazine included us in its Franchise 500 and Fastest Growing rankings in 2014 and 2013, and we were also included us on its Top New list in 2013 and 2012.
Entrepreneur Magazine rated us as the Top Frozen Yogurt Franchise in 2013.
Fast Casual ranked us among the Top 100 Movers and Shakers in 2013.
QSR magazine rated us its top Rising Star among its Best Franchise Deals list in 2013.
Forbes magazine named CEO Amit Kleinberger as one of America's Most Promising CEOs under 35, and it named co-founder Danna Caldwell as one of 11 Women Who Started Amazing Companies.
Technomic ranked us at 272 in the Top 500 U.S. Restaurant Chain Report in 2012.
Orlando Magazine ranked Menchie's No. 1 Best Frozen Yogurt in 2011.
Los Angeles Business Journal named us Best Franchise in 2011.
Menchie's is an award-winning international brand that's growing by leaps and bounds. Read on to see if we each fit what the other is looking for.