Menchie's Offers Healthy Frozen Dessert Options
Frozen yogurt is enjoying a renaissance as a high-growth, high-margin segment of the stable frozen desserts industry.
The potential is enormous.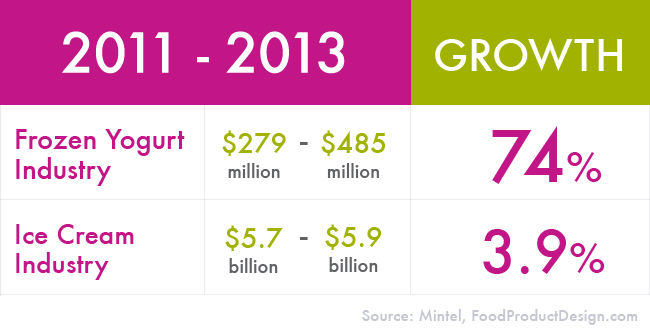 After the 1990s slowdown, when many frozen yogurt shops were overtaken by ice cream parlors and coffee shops, frozen yogurt has climbed back up the popularity charts and shows no signs of slowing down. Much like home delivery changed the pizza industry in the 1970s and '80s, the self-serve, mix-it-yourself frozen yogurt model has been a game-changer for frozen desserts.
But let's pretend one day another frozen dessert captures consumers' interests. Menchie's is not necessarily in the frozen yogurt business. We're in the business of creating smiles.
Unlike most of our competitors, our vision and broader marketing platform allow us to keep current with guests' tastes. Like any product, frozen yogurt will have a life cycle, but families will always need a family-friendly place outside the home where they feel appreciated and welcome. Menchie's may change as time goes on, but we'll always deliver that warm, family-friendly experience.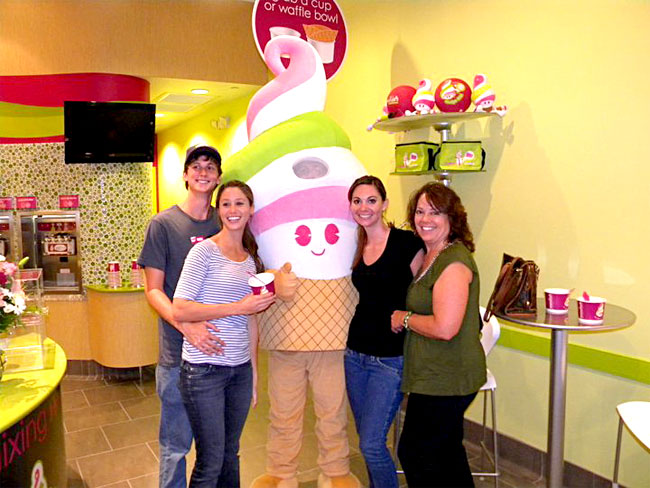 Menchie's competes in the following ways:
Menchie's, with our Sweet Friends characters, is a recognizable brand everyone can relate to.
Frozen yogurt is a high-growth industry. A rising tide raises all ships, and category interest is very high.
We serve only high-quality products, such as our Private Label Collection line of yogurt.
Modern, colorful, and inviting stores make for welcoming spaces that draw people in.
Our fun atmosphere attracts responsible young people, creating enthusiastic team members in each store.
The Menchie's team carefully selects each site.
We earn community buzz. People get excited when they find out a Menchie's is coming to town.
We have raving fans for guests. Menchie's inspires loyalty because of our consistently positive guest experience.
How Often do Consumers Eat Frozen Yogurt?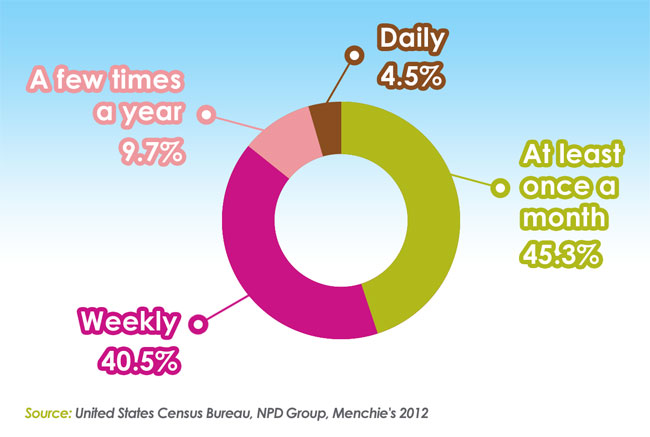 Menchie's stores are designed to be not just a stop-off, but a destination. Labor costs are lower because guests are essentially serving themselves. They get to experiment by combining premium soft-serve flavors with a rotating set of toppings, so each experience is as unique as they want it to be. It brings people back time and again.
Despite the industry's climb, there's still opportunity for growth. Menchie's is the largest, fastest-growing self-serve frozen yogurt franchise in the world. We've expanded from 12 stores in 2009 to more than 500 open today.
Even during tough economic times, when people tend to slow their buying of luxury items, Menchie's and the frozen yogurt industry have bucked that trend and remained strong. Analysts at IBISWorld felt that might be due to the fun guest experience that can be had for such a low price. Frozen yogurt is an affordable luxury.
As the largest self-serve frozen yogurt brand in the world, Menchie's continues to distance itself from the competition. Why does this matter? Because in any business, the lion's share of revenues and profits go to the category leader. In the end there can only be one leader, and if growth is an indicator, we are that leader.
Interested in learning more about franchise opportunities with Menchie's? Fill in the form on this page to get the conversation started.